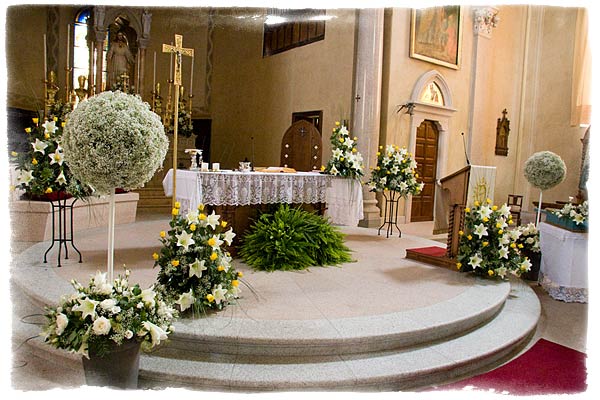 The altar area of the ceremony venue is important for a variety of reasons. If you read on to these great ideas for altar decoration, you will find out that decorating the altar is not as difficult as you think.

When planning your altar wedding decorations, remember that you, along with your wedding party, are the true focus. What colors will your bridal party wear? Choose altar flowers and decorations that complement your basic colors and styles. It is important to decorate the altar in a way that blends with the location's decor. A visit to your church or wedding hall, where you sit down and take in the ambience of the room, may help you decide what types of decorations will best enhance your altar while still maintaining harmony.

Aside from flowers, it would also be nice to have lush of greeneries in the altar area. For example, you can two large green topiaries and place them on either side of the altar. These topiaries can be adorned with tulle bows, flowers, balloons, raffia, and ribbons. The altar will serve more than just a backdrop to your wedding. More importantly, this is a sacred place where you and your partner would make a vow to spend the rest of your lives together for better or for worse so it is only right that you decorate it beautifully.